Features
What the plugin does
The plugin presents your visitors with a professional looking 'terms and conditions' that will make them agree to it before they can continue browsing your website. This is the easiest way to get your visitors to agree to your terms, privacy policy, etc. before entering your website.
Visitors will only see the terms once. If they agree to your terms, they will never see it again for the amount of time you specified in the setting. If they don't agree to your terms, they have a choice to go to a URL of your choice. If visitors decide to access your website with a different URL, they will still see the terms until they agree to it. You have the choice whether to enable or disable this to logged in users.
Assure you that no visitors could use your website before agreeing to your terms. This makes sure you won't be liable for what your visitors do on your website. Saves you from legal suits, among others.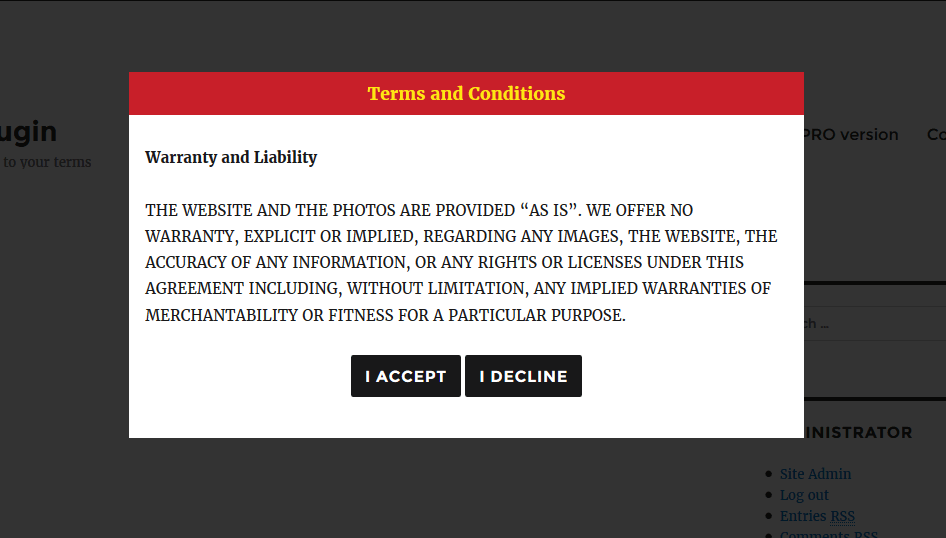 Who this plugin is for
This plugin is useful for website owners, be it individuals or companies, who are concerned about legal aspects of the activities on their website, website owners who wished to limit their website's content to visitors of certain age, website owners who just wished to display the website's terms and conditions, privacy policy, or other messages to their visitors before the visitors can continue using their website.
Other Uses
Other than what the plugin is intended for, the plugin can also be used if you want to display certain message before your visitors have full access to your website.
Installation
1. Upload the plugin files to the `/wp-content/plugins/wp-terms-popup` directory, or install the plugin through the WordPress plugins screen directly.
2. Activate the plugin through the 'Plugins' screen in WordPress
3. Use the Settings->WP Terms Popup screen to configure the plugin
4. Style it if you know CSS and wished to do so.
How to use
After installing and activating the plugin, you can go to Settings>WP Terms Popup to set the desired configuration for your website. In the setting, you will be asked to choose a custom post that you want to be displayed as your "terms and conditions" (or privacy policy, etc), so make sure you have already created the post. If not, go back to the Terms Popups situated in the Dashboard on the left. You can make as many terms as you want.

In the general settings you have the main options for this plugin. Here you can select the post that will be showed on your site.