WP Terms Popup Designer
Adjust the appearance of your popups without having to write any code or modify your WordPress theme
Our WP Terms Popup Designer add-on is the perfect solution for WordPress website owners who want to make adjustments to the appearance of their popups but don't want to get their hands dirty with theme modification or writing obscure CSS markup by hand.
With Designer installed and activated, the "Designer" tab inside of WP Terms Popup turns into a simple interface for changing a variety of popup settings related to presentation.
Purchase the WP Terms Popup Designer plugin and adjust a wide variety of the design elements of your popups without writing any code.
Popups
The Designer add-on's Popups settings panel lets you dictate the width, height and position of the popup as it appears on your website. You can also round the corners of the popup itself in order to better match the design of similar elements of your WordPress theme.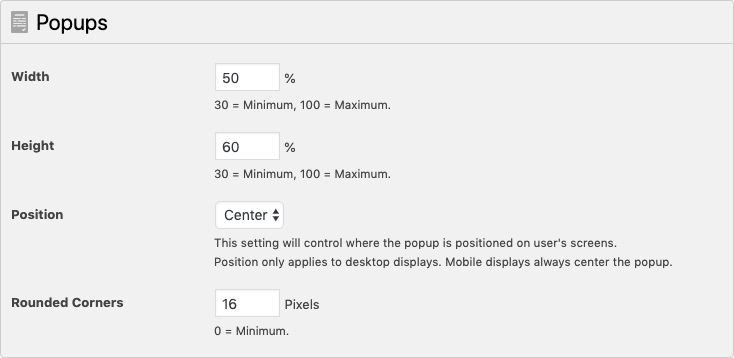 Header
The Header panel lets you control the top, or title portion, of your popup. You can set the background and text color, text size and alignment as well as the amount of space (padding) around the header text itself.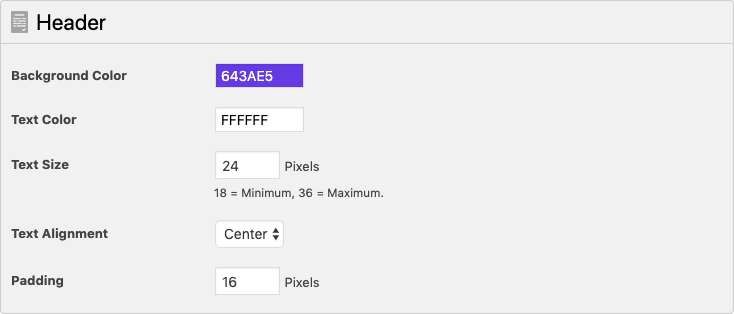 Body
The Body settings let you control the basic elements of the main content container of your popup. You can set the background and text color as well as the alignment of the text and the amount of spacing, or padding, around it.

Buttons
The Buttons panel gives you plenty of control over the style and function of the agree and decline buttons inside of your popup. You can define the buttons' background and text color as well as the size of the text, the padding inside of each button and the amount to round the edge of each button's corners. In addition, the Buttons panel lets you reverse the order in which the buttons are displayed or remove the decline button from your popups entirely.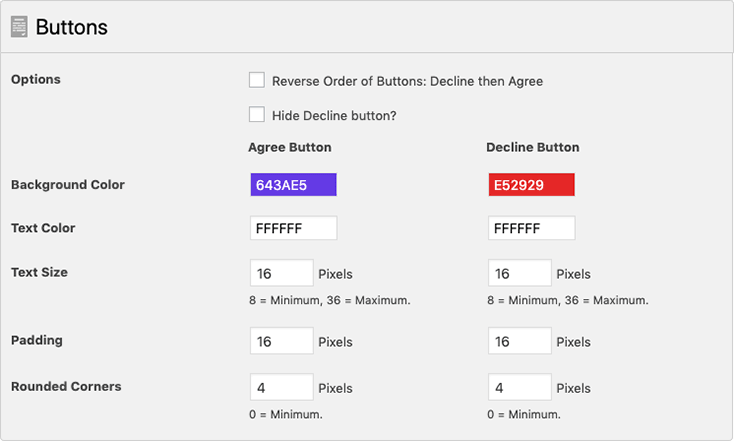 Background
Designer's settings panel for Background gives you control over what happens behind your popup. You can set the background color, its transparency level and even blur the elements of your site that appear underneath your popup and its contents.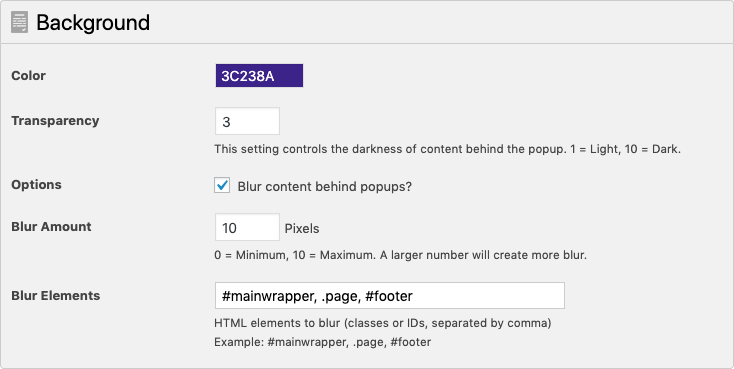 Appearance
The Appearance panel gives you the ability to have Designer trigger the display of your popup whenever a specific element of your site comes into view. Until your trigger element is in view, your popup will remain hidden to your visitor.

Get more control of your popup's appearance with WP Terms Popup Designer. Perfect for people who don't code.
Designer is regularly being updated with new features and additions to help make customizing your popups even easier.
Frequently Asked Questions
Are there any requirements for Designer to work?
You will need to have version 1.3.0 or later of our free WP Terms Popup plugin installed for Designer to work correctly. Older versions of WP Terms Popup are not compatible with Designer.
I purchased a copy of WP Terms Popup Pro prior to the release of Designer. What can I do to replace my old plugin with this new one?
WP Terms Popup Pro customers are free to contact us via our Support form and we will assist you in upgrading to Designer free of charge.
How can I get the blur feature working correctly? I can't figure out how to identify the correct wrapper value?
Please contact us through our Support form (make sure you have your License Key handy) and we'll be happy to lend you a hand. This process usually takes some trial and error based on how your theme is constructed.